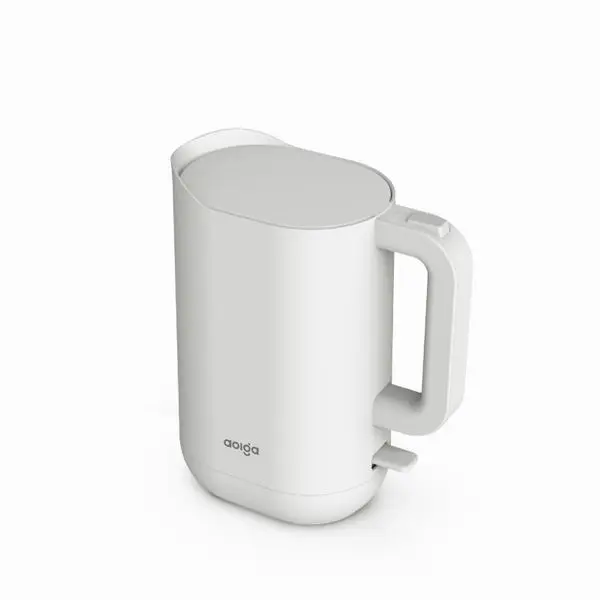 HOT-W15
Rapid Boil Electric Kettle
Model: HOT-W15
Specification: 220V-240V~, 50Hz/60Hz, 1350W; 1.5L; 1.8M power cable
Color: White
Feature: New streamlined design; Double-layer pot body; Seamless inner pot; Operation with only one button easily
Description
• 70 degree big opening of lid for various ways of water receiving and easy cleaning
• Food grade SUS304 stainless steel seamless inner pot bringing easy cleanning of sewage and bacteria conveniently
• Ergonmic design with only one press to open the lid
• Double-layer pot body giving a hollow insulation layer for anti-scald and keep warm
• Integrated handle for easy pick up
• Operation with only one button easily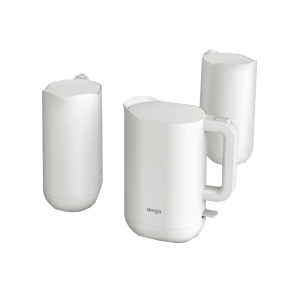 Accurate water level:
• The max and low water level lines are engraved inside, and the water is accurately added to prevent overflow
Triple protection design:
• Automatic power off on boiling, high temperature and dry burning, more reliable and safe
• Lid, spout, liner and strainer are all made of SUS304 stainless steel
• Without containing manganese and other heavy metals harmful to the human body, having obtained international food safety certification and is widely used in the medical and food industries
• Rapid boiling and rapid heating through the high-power energy-gathering heating ring at the bottom
• Steam sensor switch, automatic power off when the water is boiling, having passed 10,000 life test
• Water filtration design of the base to make water effectively removed, and safer without water being piled up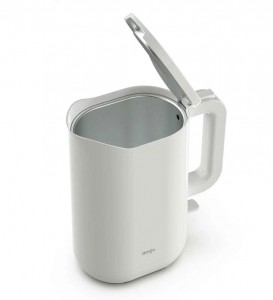 Scale filter:
• Effectively filter out scale impurities to keep clean
• Larger contact surface of the thermostat and the connector, stronger stability, and more accurate temperature control
| | |
| --- | --- |
| Item | Electric Kettle |
| Model | HOT-W15 |
| Color | White |
| Capacity | 1.5L |
| Material | SUS304 stainless steel |
| Technology | High-temperature baking varnish of outer housing |
| Features | New streamlined design, Double-layer pot body, Seamless inner pot, Operation with only one button easily |
| Rated Power | 1350W |
| Rated Frequency | 50Hz/60Hz |
| Voltage | 220V-240V~ |
| Length of Power Cable | 0.8M |
| Product Size | L210xD110xH243MM |
| Gife Box Size | W255xD157xH310MM |
| Master Carton Size | W785xD490xH325MM |
| Package Standard | 6PCS/CTN |
| Net Weight | 0.8KG/PC |
| Gross Weight | 1.0KG/PC |
White/brown dots offen appear on the bottom of the kettle. What is it?
The white spot on the bottom of the kettle is what we often call scale. After water is boiled, the calcium ions and magnesium ions in the water are boiling and formed at the bottom of the kettle, sometimes white, sometimes yellow. Brown spots are formed after the oxidation of tea or food, most of the ones are brown. Please pay attention to that this is not rust of the kettle.
Tips for descaling:
(1) Fill a small amount of water in the kettle and a few spoons of vinegar to burn. Don't lift it immediately, then it will work best, which can remove scale quickly.
(2) Put some lemon slices in the kettle, water added to start heating, wait for a while to remove the scale.
(3) Using the kettle to boil eggs several times because the outer shell of the eggcan effectively remove scale when water is boiled.